A post by Susanne Boyle, Senior Manager for Learning, Teaching & Professional Skills at Mimas
Five months into this project and reaching the end of Phase I it is a time for professional reflection and from a personal level a reality check of what we are endeavouring to do, how we will achieve this and why the project timing is optimal.   The "what are we aiming to do" has been clearly articulated in previous team blogs but the "why" and "why now" for me has been more clearly defined in the last few weeks.
So we are creating an FE Skills Window for the UK to provide readily discoverable routes to Jisc Digital content for FE and Skills.  Additionally having reflected on the success of the Jisc Hairdressing Training service we are tasked with curriculum mapping a significant proportion of the current Jisc content- "Simples".
Original image URL – http://www.flickr.com/photos/47726742@N04/7638118600 Original image author – Mikhail Koninin, licence – CC BY 2.0
This project aims may appear deceptively simple but cognisant of the differing qualification systems within the four home countries and the need for the Window to integrate with existing FE technologies and Virtual Learning Environment platforms  the project team has cogitated and consulted with key stakeholders, Steering Group members and technical experts to determine the "how".
The technical developer team members are presently focussing their collective expertise and energy towards the design of an aggregator functionality within the Window which will enable the FE Skills resources to be retrieved with national qualification levels as a key facet of the search strategy. Others in the team are completing an audit of the Jisc FE Skills content to enable us to decide which content to curriculum map. Whilst Laura (Skilton) and I have been toiling over the varies approaches to achieve the curriculum mapping (CM) and are now looking to draw upon the significant strengths of Jisc Regional Support Centre (RSC)  colleagues. Indeed this week we have formally agreed to conduct a pilot CM exercise using a methodology successfully developed and applied by colleagues at RSC Scotland, with backing from Peter Scott at Jisc.
Even whilst writing this I sense myself smiling, this project has been a bit of a baptism of fire for an analytical scientist  who has come from a Scottish HEI background but as I am given to noting to the team "I feel we may have broken the back" of the "what" and "how".
However having spent many long days in a science laboratory often pinning all my hopes that the latest "informed tweak" of the experimental design may produce the desired results only to find myself repeatedly back at the "experimental design drawing board" I am never complacent.
To that end we will continue to be agile, responsive and ideally proactive in the months ahead to achieve the project goals.
But what about the "Why" – I hear you shriek!  Is that not also "Simples"- a Digital Window for a company (Jisc) that provides innovative digital solutions to enhance the digital student experience? Yes, that in itself would be an achievement but why is now an ideal time for this?
Well looking to the consistently high UK youth unemployment figures and employer's views that the barriers to recruiting young people are a lack of appropriate skills (63%) and experience (61%), UK Commission for Employment and Skills (2013) it is perhaps not surprising that devolved governments have commissioned expert working groups to find a solution to youth unemployment whilst addressing prevailing skills shortages within the labour market.
The findings of the most recent of these expert groups, "Education  Working for All!, The Commission for Developing Scotland's Young Workforce led by Sir Ian Wood, was published in June 2014. It focuses on the situation in Scotland where there is a jobless rate of 18.8 %, more than double that of the average working age population (Labour Force Survey Jan- Mar 2014, ONS) and recommends a "culture shift" in the education system of Scotland leading to a parity between University and vocational training to enable more young Scots into work.
The numerous recommendations (n=39) in this weighty report include the:
Senior Phase Vocational Pathways.
Potential for young people to undertake National Certificates and HNCs whilst still at school.
Provision of study routes to enable completion of year one of a 3 or 4 year modern apprenticeship whilst at school.
Establishment of a modern standard for the acceptable content and quality of work experience, and guidelines which should be made available to employers.
The contributions of colleges and employers in these partnerships are clearly articulated with the expectation that colleges deliver courses and vocational experiences that develop employable students.
However cultural shifts in education require financial resources and professional commitment from stakeholders, policy makers and government and so I was heartened to hear the lively and constructive Holyrood debate regarding the "Wood Commission" with a commitment from Angela Constance (MSP) to release an initial £4.5 million (transcript available) with further focus on Modern Apprenticeships, vocational training and work experience.
College Development Network (Scotland) one of the key stakeholders tasked with delivering on these objectives have been quick to share their ideas on how they will help realise the recommendations of the Wood Commission report, see video below or read the full post: http://www.collegedevelopmentnetwork.ac.uk/latest-news/.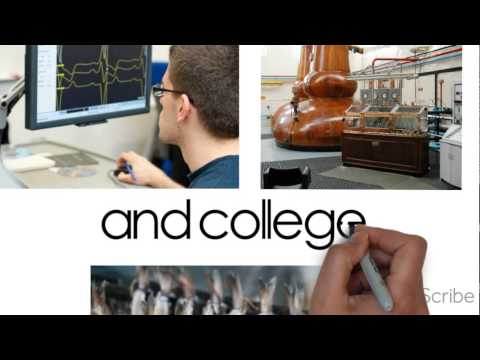 The idea of offering vocational courses to "school age" learners is not a new one. In England, as in other parts of the UK there is a more seamless approach to education within some FE colleges. Hull College is a prime example, offering 14 – 21 year olds seamless progression from Entry to Postgraduate level studies. The effectiveness of these vocational routes is evident through the student case studies, the economic impact for learners & government and the regional economy. Independent research has shown that Hull College contributes 5% of the regional income stream, the learners will earn on average £318,000 more over their working lifetime and the UK government receives a 15% return on its investment. These are impressive statistics, in times of national austerity when learners are facing increasingly difficult financial decisions when it comes to committing to further education and vocational training.
Similarly the Wolf Report (2011) identified a series of recommendations to help improve, create and maintain vocational education for 14- to 19-year-olds.
So looking to the bigger picture is the time not ripe for this UK Window development, with maximal usage including the sharing of quality open educational resources and training material via e.g. Jorum and Re:Source (see figure below)?
Would that not be a more cost effective solution to maximising the various pots of public money being targeted towards UK youth employability? With my Jisc- Mimas head on I am inclined towards an emphatic "yes" but I am mindful of previous professional roles where the onus was on me to achieve student recruitment figures and the preciousness I once held over sharing of teaching resources.
But I have seen the light, through the digital window project experience J, and I truly believe this is an opportune time for education and training communities to work collaboratively to develop policies which encourage sharing of quality vocational training resources. Thus whilst every college and University has to create its own unique selling point (USP) to meet recruitment targets and that USP may be strongly dependant on the quality of teaching and training materials, perhaps for priority areas such as youth employment there could be a sharing of best practice and quality training resources.
With the weekend looming my thoughts sometimes drift to more social matters and in this instance how we share our "treats" with visitors. In a large space it is unusual to adopt the one vessel approach and mindful of that I have to pinch myself occasionally and acknowledge there are other "OER vessels" in addition to Jorum. However being of a collaborative disposition I am minded to work proactively to integrate Jorum where possible with any national hubs, repositories or indeed other digital Windows as the need arises. In that way we may remove more of the barriers to access and ideally equalise access to ever increasing volumes of high quality open content to learners at a time and in a place of their convenience i.e. Right Content to Right People at Right Time with Right Access.
Finally looking to the schematic of the Window, figure above, there is inference of the commitment of Jisc to new services and new solutions specifically for FE and Skills communities. Presently there are a number of projects including the "Interactive Learning Resources for Skills" which is being led by Ruth Hansford.